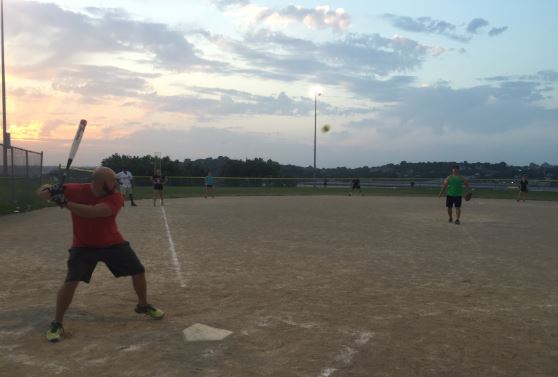 Kansas City Sport & Social Club (KCSSC) wants you to know that registration for is now open for coed rec SOFTBALL!    
The season starts September 2nd and ends October 14th.  T-shirt deadline is August 9th.  Cost to play is $60 
All games will be played at Penn Valley Park for six regular season games followed by a two-week single elimination tournament. Now is the time to get off the couch and join KCSSC.  Find some friends and start a team or join a team as a free agent.  REGISTER HERE: FALL SOFTBALL
For more information on our Coed adult Kansas City softball leagues... please e-mail us any questions or jokes at info@kcsportandsocial.com
ROSTERS & LINEUPS - This co-ed league asks for five ladies and five guys to field a team, but you'll pass with at least nine. The line-up needs to alternate guy to girl batting order. Please sign-up early to sign our waiver and receive your team's colored t-shirt.  All rosters must be finalized by the second week of the season.
EQUIPMENT & BALLS - Men will use a 12" ball and women an 11" Ball. The balls must be .44 core 375 compression. THESE MARKINGS MUST BE VISIBLE ON THE BALL FOR OFFICIALS TO INSPECT BEFORE PLAY BEGINS. WHEN IN DOUBT USE WORTH BRAND GOLD DOT FOR MEN.  All teams need to provide your own bats and balls. All bats and balls should be ASA certified, 12in. ball for men and 11in. ball for women, nothing more than .44 core 375 comp.  We'll supply the bases and umpire. 
RULES, HOME RUNS, & COURTESY FOULS - We try to follow close to ASA Softball Rules.  Home-runs, no more than two HR differential; after this each ball hit over the fence in fair territory will be an out.  Batters start with a 1-1 count. After two strikes, one courtesy foul, but the second foul after two strikes results in an out.
RAIN-OUTS & FORFEITS - If you know in advance that your team is going to forfeit a game, please let us know. We'll try to communicate rain-outs and any updates to the schedule via e-mail, phone ( 816.945.2489 or 816-945-CITY) and social media. Please feel free to follow us on Facebook and Instagram. 
SPORTSMANSHIP - Kansas City Sport & Social Club ("KCSSC") aims to provide a safe and fun sporting environment. We hope that all participants keep this mission in mind when becoming involved. Although the games may become intense, you still can be competitive while maintaining good sportsmanship within the Kansas City softball league. Any behavior deemed unacceptable by the KCSSC staff may result in suspension and/or ejection from a game or the league. Abuse of officials, referees, opposing players and other KCSSC staff will not be tolerated. KCSSC will not tolerate fighting! Fighting will be an automatic ejection from any game and in most cases ejection from the league for the remainder of the season. Any behavior deemed unacceptable by staff may result in a game suspension and/or ejection from the league.
Our goal is to improve the field and park and hopefully make some friends along the way. Happy to call Penn Valley Park the league's home for over a decade, establishing a culture where victory comes second to safe play and camaraderie, after all this is rec. So reach out to your buds and come join the fun.
Cheers!
KC Sport & Social Club
KC Softball Club