The
Kansas City Sport & Social Club
(KCSSC) wants you to know that registration for is now Open. This Premier Kansas City softball league completes a stellar line-up that includes softball, flag football, sand volleyball and kickball. Registering is now super easy with our LeagueApps Digital Platform, so get your team together and we'll see you on the field!
Teams will compete at Penn Valley Park for six regular season games followed by a two week single elimination tournament. At just about $40 per player KCSSC offers some of the most affordable leagues in the city. If you are in the area and you want to be a part of the most fun, competitive, exciting, social and happening Kansas City softball league... then you gotta get off the couch and joing KCSSC; just ask anyone who's either a past or exisiting member.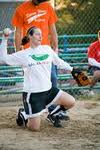 So the question is, where can adults actually find exciting Kansas City softball leagues to play in?... the answer is clearly Kansas City Sport & Social Club!
Wanna play more than just softball?... KCSSC also offers Coed adult kickball, soccer, flag football, basketball, volleyball, golf, and dodgeball. All of these leagues including Kansas City softball are fun, recreational and social leagues that offer post game parties at sponsor bars. We use professional and knowledgeable officials, and you don't have to have a full team to play (we place free agents on teams).
Get yourself involved and get in on the game today! At Kansas City Sport & Social Club the motto is Meet, Greet, and Compete. Registration for fall leagues is now open. Most leagues consist of six weeks of regular season play and two weeks of playoffs. Participants must be at least 21 years old to participate.
Play Kansas City softball under the lights overlooking the city. KCSSC's Softball leagues play at Penn Valley Park and Mulkey Park. Teams play a 6 week regular season followed by a two week playoff. The co-ed leagues use a five men - five women on the field format. Leagues are capped at 16 teams and fill up quickly so register early.
For more information on our Coed adult Kansas City softball leagues... feel free to call e-mail us at info@kcsportandsocial.com
KCSSC currently offers softball, kickball, dodge ball, sand volleyball, flag football, soccer and Men's basketball. Starting in 2013 we will be branching out to Wichita, Omaha, Springfield, Mo, and Des Moines! Let your friends know we are on our way. We also sponsor several charity events such as Dodge for a Cause, Kick for a Cure, and Dodge KC
GENERAL OVERVIEW
Except as noted in the following Kansas City Sport & Social Club ("KCSSC") Rules, ASA Rules Govern all KCSSC Softball Play.
SPORTSMANSHIP
Kansas City Sport & Social Club ("KCSSC") aims to provide a safe and fun sporting environment. We hope that all participants keep this mission in mind when becoming involved. Although the games may become intense, you still can be competitive while maintaining good sportsmanship within the Kansas City softball league. Any behavior deemed unacceptable by the KCSSC staff may result in suspension and/or ejection from a game or the league. Abuse of officials, referees, opposing players and other KCSSC staff will not be tolerated. KCSSC will not tolerate fighting! Fighting will be an automatic ejection from any game and in most cases ejection from the league for the remainder of the season. Any behavior deemed unacceptable by staff may result in a game suspension and/or ejection from the league.
BALLS -Men will use a 12" ball and women an 11" Ball. The balls must be .44 core 375 compression. THESE MARKINGS MUST BE VISIBLE ON THE BALL FOR OFFICIALS TO INSPECT BEFORE PLAY BEGINS. WHEN IN DOUBT USE WORTH BRAND GOLD DOT FOR MEN
HOME RUNS - Only two out of the park home runs are allowed per team. Each ball hit over the fence in fair territory after this will be an out.
COURTESY FOULS - Batter will start with a 0-0 count. After two strikes have been accumulated by any method, only one more courtesy foul will be granted. The second foul after two strikes have been accumulated results in an out.
ROSTERS
Teams may have fourteen players on their roster. An Additional fee will be charged for every player over fourteen. There will be at least eight players on the field to begin the game at least four of which must be women. If nine players take the field there must be no more than 5 men and no less than 4 females on the field at any time. If ten players take the field there must be five women and five men. A team may use dh's, however the amount of women must equal the amount of men unless only one man is used as a dh. No more than two men can ever bat consecutively. All rosters must be finalized by the third week of the season.
FORFEITS
If your team forfeits a match during the season, the following rules apply:
- First Offense: Loss of game and warning issued.
- Second Offense: Loss of game and staff reserves the right to remove team from playoffs.
- Third Offense: Removal from the league
If you know in advance that your Kansas City softball team is going to forfeit a game, we encourage you to call our office to help us schedule your opponent a game. This does not mean that your team will not receive the loss and a forfeit. Teams have until ten minutes past the designated start time to field the minimum requirement according to rules). If at that time a team is unable to field a legal team, it will be up to the staff and the opposing captain to determine whether a game can be played. KCSSC officials will make every effort to complete a forfeited game with a mixed set of remaining players.
STANDINGS - The updated standings will be posted weekly starting after the third week of play. The standings will display each team.
RAINOUTS - Two rainout weeks are built into each season. Kansas City softball Games that are rained out will be added back in at the end of the season (i.e. play at the time specific to the date - april 14th play those games as listed on the site others will be rescheduled). Upon the third rainout, the number of playoff teams will be reduced. Tournament play may have to be moved to a Saturday afternoon should rainouts become a scheduling issue for subsequent leagues.